WE'RE ALWAYS LOOKING FOR NEW TALENT AND YOU MIGHT BE RIGHT IN TUNE
WHAT WE DO
Well, we are a music company who deals with musicians from beginner to pro! We rent instruments for kids so they can make beautiful music. We also sell everything a musician's heart desires. Our atmosphere is fun, laid back and all about trust, quality and keeping the beat! One last note - you don't need to be a player yourself, just have passion for supporting those who do...or want to learn.
How to apply
To apply please send resume and cover letter indicating position of interest by mail to:
NEMC,
HR Dept,
1110 Centennial Ave,
STE 2, Piscataway,
NJ 08854
or email at [email protected]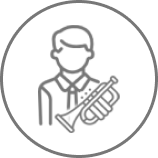 Job Title
FULL TIME WAREHOUSE ASSOCIATE/SEASONAL WAREHOUSE ASSOCIATE
Department
NEMC Service Department
Reports to
Service Department Operations Manager
Position Summary
Duties include picking, packing, and shipping orders; loading and unloading trucks; making occasional pickups and deliveries in a company vehicle; and other duties as needed.
Click on the button below to apply.
Please send resume and cover letter indicating position of interest
Essential Duties and Responsibilities
+
Physical Demand & Work Effort
+